FOTOWERKE, PHOTOGRAPHIC AND OTHER WORKS
1964 – 2006
Photography has been an essential tool for Lomholt and many other Mail Artists. After a period in England 1964 – 1969 being occupied with drawing, painting and photo, confronted with Pop art, Marcel Duchamp and the British music and art scene, an invitation to participate in Bill Vazans, Contact project 1972, established contact to the Mail Art network.
Photography became a natural tool for documentation, research for new projects and as the Mail Art activities expanded, photos took on a new perspective.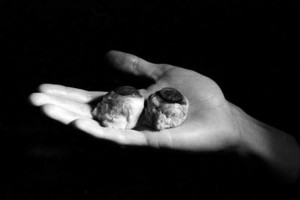 With an introductory essay
ORDERLY CONDITIONS. STANDING BY YOUR BIKE.
NIELS LOMHOLT'S PHOTOGRAPHIC WORKS
by Charlotte Præstegård Schwartz
Abstract: In the article Orderly Conditions. Standing by your Bike Charlotte Præstegaard Schwartz connects Lomholt's photographic works in the mindset of Conceptual Art. The text presents Lomholt's immaterial and absurd land-art works from the 1960s to the performative cinematic photoworks in the late 1980s. Schwartz shows how Lomholt constantly is trying to destabilize the photographic document by relating to structures, processes and information: Rather that creating real objects with a spatial appearance, Lomholt catalogues information in self-made systems.
The performative act is present in a majority of Lomholt's works, and this merging of the conceptual and the performative is a distinctive trait in the history of conceptual art. In Lomholt's work the performative takes off from the theatre of the absurd and Structuralism's cultivation of systems, whereas in his works from the 1980 the performativity emerges from Lomholt's growing political engagement. In these later works Lomholt is trying to twist the "orderly conditions," which can be defined as the ruling narrative of the debate in society, regulating and controlling the norms and value systems of society.
*
*